Серія семінарів для викладачів англійської в мовних школах
Welcome to the future of learning!
Bringing real English to your students: modern teaching for modern learners
Місце проведення: Київський національний університет технологій та дизайну
Актова зала, 4й поверх,
вул. Немировича-Данченка, 2 (м. Київ)
Дата: 01 червня 2019
Реєстрація: 10:00
Початок: 11:00
Тривалість: 4 години
Програма заходу:
Registration and a friendly cup of coffee
Greeting and opening announcements

Teaching English is like being in a boat during a storm – or is it?
Anna Kolbuszewska, Director of Training at inlingua Basel
Teaching English is not a profession for the faint-hearted. Teachers constantly deal with a range of issues in the area of methodology – and teaching a class is just one challenge, on top of which we have to deal with assessment, withstudent motivation issues, teaching multi-level groups, and more often than not we have to provide psychological support for the learners. Add to this teaching life skills, and it still doesn't represent the enormity of the challengeteachers face. This does not sound like good news, but the truth is, it is very good news. We are in a profession which will never get boring, and in which we have the priviledge and the satisfaction of really making a difference.In this session we will look together at how we can ensure that our students stay on track, stay motivated and move forward. We will examine how teaching can go beyond just language, without losing focus of the most important thing in theELT classroom – teaching students to communicate effectively in English. We will try to steady the boat, ride the storm and come out alive at the other end
Meet the next generation of Learners with PEARSON and DINTERNAL EDUCATION

Practical sessions (під час реєстрації обов'язково оберіть сесію, яку Ви плануєте відвідати)
KIDS ZONE
Через перевищення максимально допустимої кількості учасників реєстрацію на дану сесію призупинено
Engaging ways to teach the video generation – WITH or WITHOUT a screen
5 Sure-fire tips to get young leaners speak: easily, instantly, fluently, confidently
Gennadii Bilous, Dinternal Education
Achieving the language goals set when teaching young teens is impossible without stimulating their imagination, encouraging curiosity and having fun in the classroom. It's common knowledge now that for 21st century learners multimediamaterial is the ideal tool for teaching. However, which specific ways and methods of using it can produce tangible results? How can we plan and structure the teaching/learning process so that our students are not only entertained byinteractive videos and amusing cartoons, but also develop confident and natural English use in the process?In this session, we'll discuss win-win approaches to getting the most out of your English classroom when teaching young teens and try a variety of integrated practice activities to ensure long-term success in language learning
TEENAGE ZONE
The ways of making the journey relevant and valid for our 21st century learners, as well as for ourselves
Anna Kolbuszewska, Director of Training at inlingua Basel
When setting out on a journey, you can choose different routes, and each route will bring its challenges as well as moments of joy and satisfaction. Which route you will choose will depend on who you are travelling with and what are your needs and the needs of your co-travellers.Teaching teenagers can be a turbulent journey and choosing your route is vital. It's especially important now, in a world dominated by short attention spans, fast-moving pace of change, and information overload. The route you will choose will affect what experience you and your students have along the way – after all, the only source of knowledge is experience, the rest is only information, which in digital age is very easily accessible and retrievable.In this practical session we will talk about how we can ensure the best experience for our teenage students who come from a variety of educational contexts, and who may sometimes need special help in bridging the gaps. We will examine ways of making the journey relevant and valid for our 21st century learners, as well as for ourselves
TECH ZONE
Через перевищення максимально допустимої кількості учасників реєстрацію на дану сесію призупинено
Feel the benefits of Pearson's top-scale interactive online platform MyEnglishLab
The perfect way to save teacher's precious time and motivate students for responsible language learning using innovative technology
Yulia Kyianets, Dinternal Education
Stepping outside one's comfort zone is never easy for the teacher. However, the best things are usually waiting for you exactly there. Implementing latest technological advances in your ordinary classroom may feel scary, but is absolutely beneficial both for the teacher and the students. During this workshop we will investigate the depths of Pearson's new online platform, which allows teachers to manage their preparation time wisely and gives students an opportunity to fully show their potential.
BUSINESS ZONE
Effective ways on Business English training
Top strategies to help your students function efficiently in today's business world
Kris Kirby, Dinternal Education, The London School of English
Accurate and efficient communication is essential in the world of business and, as such, business English students need to master this skill as quickly as possible. Successful learners demonstrate their language competence by their ability to speak fluently with little hesitation and their informed and accurate use of the jargon and terminology inherent to the business world. However, in addition to this, they need to be aware of the cultural aspects of language use and how the soft skills they employ in their business dealings can drastically affect their chances of achieving a goal. Thus, in high stakes business encounters, appropriate, relevant and effective communication is of paramount importance.In this talk, we will discuss how we can get the most from our business English lessons by focusing on realistic situations and exploring some practical activities to spice up how we introduce our students to relevant, up-to-date language while encouraging its use in modern and engaging business situations
Tasty break and friendly chats
Dinternal Education book fair
Get your very best of Pearson new titles or make an order with a 25% discount of the day
ROADMAP: a new way forward in English teaching
Kris Kirby, Dinternal Education, The London School of English
Attend the session to revamp your ways of teaching English to young adults and get a copy of PEARSON`s brand new course ROADMAP (Level B1)

In the fast-moving world of language learning we all want to see rapid development in our learners. This means we need to build their speaking confidence and develop strategies for improving reading, listening and writing skills, whilealsoproviding practice with grammar and vocabulary. Further, this must all be done with a view of measurable learning objectives so that our progress can be tracked and assessed as our students' develop. How can all these complex aspects bedrawntogether into a course that is both engaging to the students and fulfilling for the teacher?In this talk, we will discuss practical ideas on the delivery of lessons that are easy to prepare and fun to teach, as well as see how we can adapt material easily and effectively to meet our learners' needs while maintaining theirinterestin every classAttend the session to revamp your ways of teaching English to young adults and get a copy of PEARSON brand new course ROADMAP
Saying Good-bye or staying to chat more
Семінар проводять: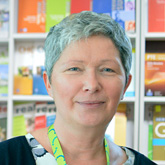 Anna Kolbuszewska, Director of Training at inlingua Basel
Ania Kolbuszewska has been involved in English language teaching and training for nearly 30 years. Throughout her carreer she has worked as a trainer, academic manager and school director. For many years now she has also been trainingtrainers and academic managers as well as providing business and academic consultancy for institutions in a range of educational contexts internationally. Her current position is Director of Training at inlingua Basel.A former Eaquals Board member and Director of Eaquals Accreditation and Consultancy Services, she now continues to work as an inspector for this international quality assurance organisation.She is the author of the "Eaquals Self-help Guide to Teacher Development" and co-author of Eaquals management competency framework. Together with her husband Andrzej Stęsik she has written Use of English materials for Pearson. Ania has beenspeaking regularly at international conferences on topics related to language teaching management.Ania is a founder member of IATEFL Poland and a member of Leadership and Management SIG of IATEFL. Her interests include conflict management, social communication and the impact of digital media on learning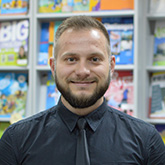 Gennadii Bilous, Dinternal Education
After graduating from the Vinnytsia State Pedagogical University named after M. Kotsiubynsky, Gennadii spent 8 years teaching English, specializing in preparing for state exams and international tests in English.In 2016, Gennadii won the Kyiv round of the Teacher of the Year-2016 Competition. He received an international certificate from Cambridge University (CELTA) the same year. Since the beginning of 2016, Gennadii has been working as amethodologist at the Dinternal Education International Training Center. During last three years he has done numerous ELT seminars all around Ukraine sharing ideas and experience in teaching English. He is also actively involved in theproject of International language examinations PTE (Pearson Test of English) and digital platform by Pearson MEL (MyEnglishLab). In 2019 he received an international certificate by Pearson FTBE (First Certificate for Teachers of BusinessEnglish)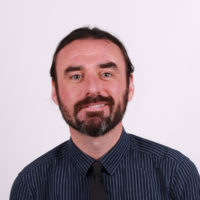 Kris Kirby, The London School of English, Dinternal Education
Kris Kirby has 12 years' experience of working in English language education across 6 different countries and a variety of ages and levels ranging from primary to secondary and academic preparation to business courses. In addition tothis, Kris has run teacher training sessions in both Thailand and Ukraine, as well as coaching individual teachers in professional development programmes.Kris is currently based in Kyiv, working both as an English teacher at the London School of English and an educational consultant at Dinternal Education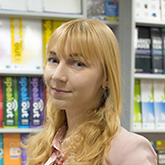 Yuliia Kyianets, Dinternal Education
Yuliia graduated from the National Pedagogical Dragomanov University in Kyiv in 2013 and since then she has been teaching English and German in both state and private educational institutions in Kyiv for 5 years. Yuliia also occupied the position of Assistant Head Teacher for Foreign Languages in 2017-2018 educational year. While teaching she specialized in preparing for state exams and international tests in English, and also teaching English Literature and Business English. In 2018 Yuliia became a certified Pearson Test of English (PTE) examiner and since then has been involved in several exam sessions around Ukraine. Since 2018, Yuliia has been working as a academic consultant at the Dinternal Education International Training Center. During this year she has done almost a hundred of ELT seminars all around Ukraine sharing ideas and experience in teaching English. As a methodologist Yuliia is also running the project of digital platform by Pearson MEL (MyEnglishLab) and actively involved in the PLS (Private Language Schools) project at Dinternal Education
Чекаємо на зустріч з Вами!